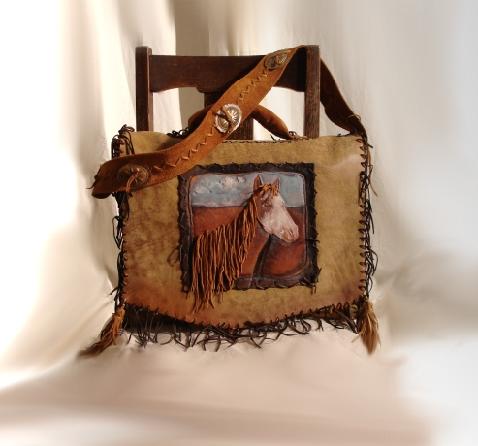 Mi Amigo
A work of art for your works of art....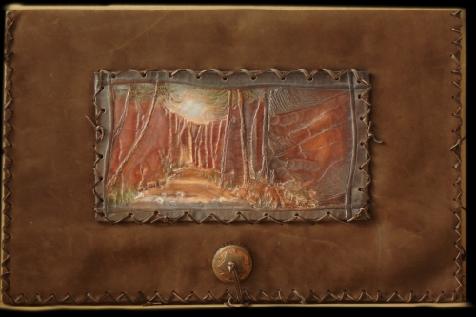 Hell Gate Gulch leather tooled art , sold
For the artist

This hand laced leather tablet pouch was created for the artist who wants a special place to draw. The pouch has inside pockets for finished drawings, and comes with drawing pencils, eraser, pencil sharpener and replaceable 18" x 12" tablet of 50 acid free pages to get you started. The drawing pouch closes with an aged metal coin and leather string. You may order a leather tooled image for the front cover, or the tooled leather frame with removable image to put your own art its place. Now, it's truly yours!

$1,200



Large enough to hold your lap top, the hand laced original leather tooled art pouch is the old friend you trust with the important things you can't hold in your hands. The inside is padded and lined in suede, the outside is a nostalgic memory. Size is 16" x 15" x 3".
We can accommodate requests for an image you hold dear to your heart.
Transport your lap top in a work of art. Soft padded interior is lined in suede or leather with option of interior dividers for your cord, papers, etc. The leather pouch is hand laced with an art image leather tooled on the flap. Comes with leather shoulder strap or laced leather padded handle option. You may have a special image you'd like instead of mine, call for particulars. The pouches shown here are available for purchase. Custom orders allow 4 weeks to complete. $1,300.
You will want to wear what comes from here...

Own a Piece of Montana

Inquiries:

Martina@MontanaDreamwear.com
For a live person, call 10:00 A.M. to 5:00 P.M. MST
406-225-3909
or
for questions, inquiries, and Return Policy, go to Contact or to Order Page

Custom Orders Welcome.
We accept phone orders with authorized Visa, Mastercard Credit Cards

Although copying our clothing designs is considered a form of flattery, we take this act as a theft of our intellectual property. No part of this site may be copied, reproduced, republished, uploaded, posted, transmitted or distributed in any manner whatsoever, except for viewing purposes, without the prior written consent of Montana Dreamwear.
Montana Dreamwear owns all copyrights for all material on this site. Montana Dreamwear also owns all trademarks, service marks, trade names, logos and domain name used on or in connection with this Site. Any modification or use of the materials from this Site for any purpose not explicitly permitted is a violation of Montana Dreamwear and it's copyright and other proprietary rights. Legal consequences will be taken to insure our intellectual property is protected.


Photographs and imagery are property of Montana Dreamwear


All photographs taken by Celeste Sotola. Marketing / Photography services available for
hire. Please contact 406-225-3909 for details.